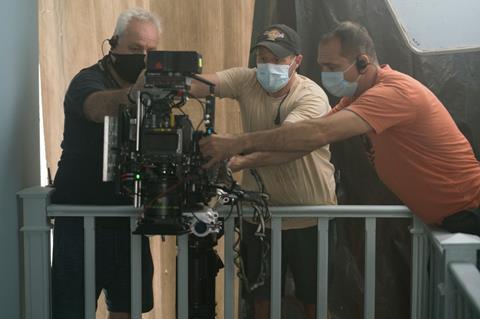 Millennium Media has completed production of Megan Fox thriller Till Death on the Covid-safe Nu Boyana facility in Bulgaria and announced it has sold out most of the world. 
Principal photography took place over the summer in what was the first production in Bulgaria since the lockdown. The shoot wrapped on September 7 with no reported cases of Covid-19.
Production occurred under strict protocols that included testing 72 hours prior to arrival, bi-weekly testing, and a three-day quarantine established in agreement with the Bulgarian ministry of health and Bulgarian Film Center.
Measures were also in place to ensure zone-based social distancing, mandatory wearing of masks, sanitising of equipment and high-traffic areas, temperature checks at the entrance to the facility and zones, catered food served in boxes, and a private corridor with contactless key fob to enter production offices.
Roughly 10% of the cast and crew flew in from the US.
Millennium Media has licensed rights to the thriller in Germany (Telepool), France (Metropolitan), Spain (Vertice 360), Italy (Vertice 360), Middle East (Eagle), Latin America (California Filmes), Scandinavia (Scanbox), Benelux (DFW) and Canada (VVS)
Deals also closed in CIS and Baltics (Top Film), Eastern Europe (Film Forum), Indonesia (PT Prima), Malaysia (Metropolis), Thailand (Joyncinema), Portugal (Lusomundo), Taiwan (Deepjoy), Turkey (Aqua), Greece/Cyprus (Odeon), Philippines (MVP), Hong Kong/Macao (Pineapple), Vietnam (Blue Lantern), South Africa (Empire), India (Lionsgate India), Israel (United King), West Indies (Caribbean Cinemas, and pan-Asian pay TV (HBO Asia).
Fox plays a woman trying to evade two killers hired to execute a revenge plot aimed at her husband.
Australian filmmaker SK Dale is directing from a screenplay by Jason Carvey. David Leslie Johnson is producing alongside Millennium's Tanner Mobley, Les Weldon, Yariv Lerner and Rob Van Norden.
Avi Lerner, Trevor Short, Boaz Davidson, Jeffrey Greenstein and Jonathan Yunger are executive producers for Millennium.