On paper, the premise to THE LOVEBIRDS sounds like its going to be a lot of fun. A rom-com crime caper with Kumail Nanjiani and Issa Rae. What could possibly go wrong?
After a brief meet-cute in the opening sequence, we arrive four years into the crumbling relationship of Leilani (Rae) and Jibran (Nanjiani). On the verge of breaking up, they accidentally hit a cyclist while driving. They are soon caught up in a murder plot that takes them across New Orleans.
If the premise sounds familiar, it's certainly been done before. Date Night without the comic misunderstandings. Or maybe Game Night. Either way, we've seen this film a few times already and it should have Night in the title.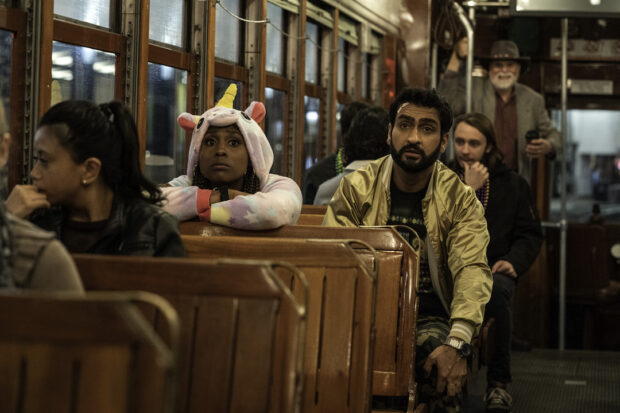 Once the murder plot proper starts, Aaron Abrams and Brendan Gall's screenplay sticks to the rails. Lurching from scene to scene, the film starts to feel less like a (romantic) comedy than it does a low-stakes thriller with any of the fun sucked out. Once Anna Camp's character turns up, and starts the titular couple down the path of intrigue and investigation, it's almost as if comedy and the plot-driven narrative refuse to exist in the same scene.
In fact, there's very little joy to be had anywhere in the movie. There are some fleetingly fun moments. Rae and Nanjiani doing a carpool karaoke scene to Katy Perry's 'Firework' is genuinely infectious. When the film takes a turn towards Eyes Wide Shut (for some reason), the duo's reaction to an on-stage orgy is priceless.
Rae and Nanjiani do most of the heavy lifting in what is effectively a two-hander. Their chemistry is solid, as you'd expect from two top comedic actors working at the top of their game, but the script doesn't give them much to work with. It mostly comes across as a semi-improvised series of squabbles set to increasingly crazy situations.
Which makes the whole thing a little bit disappointing. Perhaps, if the world hadn't gone off wandering in a hand-basket in 2020, we'd have been able to see an appreciate this with an audience. Yet in the hollow echo chamber of endless isolation streaming, it just comes across as empty grist for the mill.
2020 | US | DIRECTOR: Michael Showalter | WRITERS: Aaron Abrams, Brendan Gall | CAST: Issa Rae, Kumail Nanjiani, Paul Sparks, Anna Camp, Kyle Bornheimer | DISTRIBUTOR: Netflix| RUNNING TIME: 87 minutes | RELEASE DATE: 22 May 2020